Before starting the writing, I have to apologize to the Mandela's family and to say, the following story is not about their father or grandfather. This is written in total respect of Madiba's privacy and South Africans. It is all about Mandela, the Politician, We Africans, Black Americans or any other people identifying himself to the Patriarch and The High Profile Human Rights Defender, Mandela, the Hero we cherish in common as we share his legacy : something wider than South Africa and Africa itself.
To begin with, when it comes to president Mandela, you have got two different stories. Face A : the Great Man nobody can deny the ultimate price of 27 years sacrifice in jail somewhere in a place named Rhode Island. President Obama was the last High Character visitor, less than two weeks ago, during his African Tour. South Africa was a « passage obligé ». Not only because South Africa is the leading economy of Africa and a model of peaceful democracy with smooth presidential transition, but also, for the historical figure President Mandela will remain. The President told a youth audience in a Town Hall that he entered Politics and Militancy throught Mandela's action of resisting Apartheid. He also pointed out that Gandhi the India Liberator also started his journey in South Africa.
I will not insist upon the related of the first appearance of Obama the young man for two minutes on the podium, at a University forum somewhere in America. « Thank God, there is no record of this », the president said in a shared smiling moment. Is the president so sure ? Watch out.
Yet, this is not the time for joke. This is the time to recall what President Obama underlined again : Madiba's story tells us that one man can change the course of  History. So is Gandhi's. That is why those Great Men such as Martin Luther also are ultimately Heroes and inspiring for generations to come.
These are undeniable truths.
With the same inspiration, South African Rugby team was able to accomplish a pure miracle. Morgan Freeman, Invictus, captured the Greatness of Mandela's High Spirit in a thrilling way. The Spiritual connection between the « Spring Bok » and Mandela's learnings and passing of the torch is magnified by that exceptionnal inspiring movie.
This is Mandela Face A at his Highest stage. Then you have face B.
The Face B is something more ambiguous that had hindered the entrance of Africa in phase 2 of its lost independances. This less told and sold last period started after the 27th Island Road's emprisonment with Frederick De Klerk. At the beginning, Madiba has got no choice but to work and even walk with president De Klerk hand by hand. And it was wiser for him to stay close, learn and preside together.
Missteps
While recognizing that the necessity of reconciliation badly in need in South Africa dictated a search for peace or for a common ground of thinking, we regret that Mandela's presidency was all about that. Looking for peace took the whole Mandela's presidency failing short to do what Chavez conducted successfully in Venezuela : the nationalisation of mineral plants, industrial and so forth for equal redistribution of wealth to all the South Africans, especially those in great need, captured in poverty.
Yes, president Chavez paid the ultimate price for that. Nevetheless, he has not acted in vain : Venezuela jump starting is a proof of that. Venezuelians can't and will never forget that Great Hero. The Opposite of his Maduro successor, not yet to the point. The Snowden show is there to testify, if any.
Mandela failed to become a Chavez, in his second period of life. This is the first misstep. Unfortunately, this mistake embodies historical proportions, for it was the dreamt opportunity to accomplish African liberation and independance from remnants colonisation, extraction and so forth.
Not only the wealth was left to the same hands, eventhough some South African have been granted some shares, SA are still splashing in poverty with De Beers diamonds getting richer and richer and leading the diamond market in the World along with Anvers where Congolese diamonds are flooded.
Kivu, the place inside the mineral rich Congolese province close to Lumumbashi has since become a theater of violence, rape for diamonds. Those are two places of extraction and diamonds trafic and the place bo be for any traficking business woman or man. Anyone sniffing diamonds. Thefts and Rapists are twins.
Because of this misstep, Africa was hold still. Mugabe was handcuffed with his land reform. Gaddafi was slaugtered in total silence of Madiba. Something unbelievable especially when you think that late president Gaddafi helped the ANC to fight the Apartheid with every tool : military training in Lybia, money and arms. How can president Mandela keep silent when Gaddafi was hunt ? This remains a mystery.
Madiba failed to finish his job to free Africa : Mali, Ivory Coast, Lybia, Zimbabwe, Rwanda, Soudan, Poverty in SA, Madiba's silence draws his face B – ultimately higly interrogative.
Thabo Mbeki helped as he could, but Madiba quietness when it comes to chose between Zuma – who failed Ivory Coast mediation between President Laurent Gbagbo and Alassane Ouattara, the US-France backed candidat – and Thabo Mbeki left many without answers. Times after, Jacob Zuma joined a rescuing African Union crew too late. At the time, he was the president of the UA. He let Gaddafi down. He intervened too late and was even unable to grant asylum and protection to Gaddafi. Meanwhile president Gaddafi was stating « he would quit power only if asked for by the African Union, not by the old Westerner colonisation Masters : France and UK ». But Zuma stood still. Another mystery from SA to sort out one day.
What happened ? Here is one explanation.The business of setting foundations is something former presidents are all in. Who is behind that business and what is going on inside  ? Are there figuring up new international lobbying gates ? So far we have seen only one former President in the field with a great sincerity : G.W. Bush painting a room at an hospital in Zambia. An hospital he is helping rebuilding and working better.
Off all those presidents heading foundations, G.W. Bush is an Authentic Hand : at the White House, he did two Great symbolic things for Africa :
First, HIV Tritherapy was given free to Africans. Without G.W. Bush generosity and care, Africa would have been decimated by now. G/W/Bush deserves a statue and avenues everywhere in African capitals. In plain centers.
Second legacy of Bush for Africa. The creation of the MCC – Millenium Challenge Corporation – along with Condoleezza Rice, the then Secretary of State.
Obama is pursuing this generous and Bold Bush agenda, for Africa renaissance and re-energizing. CEO Daniel W. Yohannes Travels with President Obama in Africa.
At the moment when President Mandela is passing away, this oped is kind of confession he should have done before leaving this World. I did it for him to free his soul and ease his passage to the other side of the Mirror.
May Pope Francis and God give him the absolution he deserves on behalf of the promise of Love and mercy.
We pray for him, we pray for that and say farewell. Therapeutic obstinacy is futile now and forever.
We say Goodbye to the Great Man. Nobody is perfect.
 

FACT OF THE DAY. ASK JUSTICE FOR TRAVON.
Latest developments. From CNN. Quote.
« President Barack Obama released a statement a day after the verdict in the George Zimmerman trial, saying the « death of Trayvon Martin was a tragedy. Not just for his family, or for any one community, but for America. I know this case has elicited strong passions. And in the wake of the verdict, I know those passions may be running even higher. But we are a nation of laws, and a jury has spoken. I now ask every American to respect the call for calm reflection from two parents who lost their young son.

« And as we do, we should ask ourselves if we're doing all we can to widen the circle of compassion and understanding in our own communities. We should ask ourselves if we're doing all we can to stem the tide of gun violence that claims too many lives across this country on a daily basis. We should ask ourselves, as individuals and as a society, how we can prevent future tragedies like this. As citizens, that's a job for all of us. That's the way to honor Trayvon Martin. »
>>> Another quote of Senator Harry Reid. From Newsmax :
Reid, NAACP : Trayvon Case Not Closed

Senate Majority Leader Harry Reid predicted that despite the « not guilty » verdict in the Trayvon Martin shooting, the case was not over as the NAACP asked that the Department of Justice pursue federal charges against George Zimmerman. « I think the Justice Department's going to take a look at this. You know, this isn't over with, and I think that's good, that's our system, » Reid said. Ben Jealous, president and CEO of the NAACP, said Sunday the attorney general's office should pursue criminal civil-rights charges in the killing of Martin following the acquittal of Zimmerman late Saturday. « We are calling on them to do just that because when you look at his comments … there is reason to be concerned that race was a factor in why he targeted young Trayvon," Jealous said on CNN's « State of the Union. »
« Justice Corey continued to defend her decision to charge Zimmerman with second-degree murder.

"We charge what we believe we can prove," she told the media. "That's why we charged second-degree murder. We truly believe that the mindset of George Zimmerman and the words that he used and the reason he was out doing what he was doing fit the bill for second-degree murder."

Corey said the case "has never been about race," but also said there was "no doubt" young Trayvon Martin had been "profiled to be a criminal."

Although Zimmerman was cleared of all charges, Corey told the media : "This case was about boundaries and George Zimmerman exceeded those boundaries ».
Read Latest Breaking News from Newsmax.com
From the New York Times. Prayer, Anger and Protests Greet Verdict in Florida Case
Protests Follow Zimmerman Acquittal: The fallout over the acquittal of George Zimmerman in the shooting death of Trayvon Martin was felt across the country on Sunday.
The acquittal of George Zimmerman in the death of Trayvon Martin reverberated from church pulpits to street protests across the country on Sunday in a renewed debate about race, crime and how the American justice system handled a racially polarizing killing of a young black man walking in a quiet neighborhood in Florida. For more go to the NYT.
From CNN, the day after. 
Zimmerman verdict reactions ring out in protests, calls from pulpit
By Catherine E. Shoichet, CNN
July 15, 2013 — Updated 0545 GMT (1345 HKT)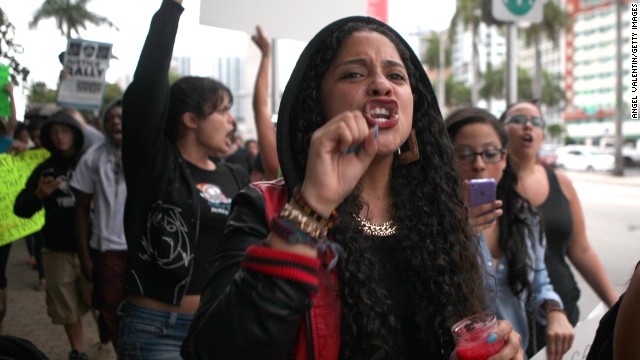 Demonstrators march following a peaceful rally at the Torch of Freedom in downtown Miami on July 14. A jury acquitted George Zimmerman of all charges related to the shooting death of Trayvon Martin.View photos of key moments from the trial.
(CNN) — Just steps away from the courthouse where a jury decided George Zimmerman's fate, demonstrators vowed that their fight wasn't over.

« Nationwide protest to demand justice, » they chanted after the jury's not guilty verdict in Sanford, Florida, cleared Zimmerman in the shooting death of Trayvon Martin.

It wasn't long before some appeared to be heeding their call.

Protesters rallied in Los Angeles, San Francisco, Chicago, Denver, Baltimore, Detroit, New York and other cities.

…
Today, speaking at the national convention of Delta Sigma Theta, an African-American sorority, Attorney General Eric Holder called George Zimmerman's shooting of Trayvon Martin « unnecessary » while noting that his department is mulling a second prosecution of Zimmerman, who was acquitted by a state jury on Saturday after arguing that he acted in self-defense. Was Holder declaring that the jury got it wrong and prejudging the outcome of the Justice Department's investigation? Not necessarily, but that is one plausible inference, and it would have been better for him to avoid commenting on the case so as not to create the appearance that the fix is in. Here is the context of Holder's remark: … More on reason.com.
Concerning the jury. Watch on CNN.
« One of the six jurors who acquitted George Zimmerman tells CNN that the jury was split in its first vote: three votes for not guilty, two for manslaughter and one for second-degree murder.
She said Zimmerman's « heart was in the right place » the night he killed unarmed Florida teenager Trayvon Martin but didn't use « good judgment » in confronting him. She believes Martin threw the first punch in their confrontation and that Zimmerman feared for his life.

She also said she believed it was Zimmerman's voice heard screaming for help in 911 calls.

The juror, who spoke on the condition of anonymity, appeared exclusively on CNN's « AC360," which airs weekdays at 8 p.m. ET and 10 p.m. ET.

Martin's friend and trial witness Rachel Jeantel is a guest live on "Piers Morgan Live," which airs at 9 p.m. ET. »