Source Huffpost. Russian President Vladimir Putin Is 'Latently Gay,' Alleges
Controversial New
Biography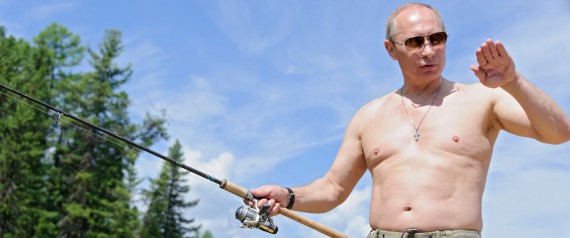 According to a recent Spiegel Online review of the book, reportedly entitled « Putin, »the publication depicts the Russian as an extremely wealthy but « traumatized » and lonely person who shuns human contact.
In the book, Belkovsky, a long-time Putin opponent, is also said to speculate that « sex and a sex life are alien » to the politician, who the 42-year-old author says may be « latently gay. »
The Kremlin has flatly denied the biography's allegations. « Belkovsky's remarks are lacking any basis, or as we say it in Russia: They are total rubbish, » Putin spokesman Dmitry Peskov said, according to Spiegel Online.
Visit Spiegel Online to learn more about Belkovsky's new book.
Implications of homosexuality would understandably not sit well with the Russian leader and his government. In July, Harvey Fierstein wrote in an op-ed for The New York Times that Putin had « declared war on homosexuals » after he signed several anti-gay bills into law, including one that banned « homosexual propaganda. »
Activists say these laws have spawned a widespread culture of violence and fear for LGBT Russians, some of whom have reportedly been subjected to horrific humiliationand torture.
Despite widespread international criticism, Putin has defended these anti-gay measures and has insisted that neither he nor his government is homophobic.
For more go to Huffpost. Picture : the Huffpost.
———
You have noticed the last gay connection between the french president traveling to see  the Israeli PM who then visited Putin before Putin's travel to the Vatican followed by Netanyahu Papal visit. Absolutely incredible. In the meantime, the Vatican has refused to handle the list of pedophilian priests to the UN asking for that. Putin has just divorced from his woman. Sotchi's games are approaching and may be, this biography will set a bridge between the gay lobby and Russian president for a giant kissing parade. All asses up and out for everybody to see projected over a tank. Good riddance and riding.
Is Snowden a gay ?
China is the center of the World, this week. After Joe Biden, Cameron, Putin is over there. Putin is such a contradictory man. Anyway, we confess that for Russia and China, Human Rights have made a high jump and consistently improved.